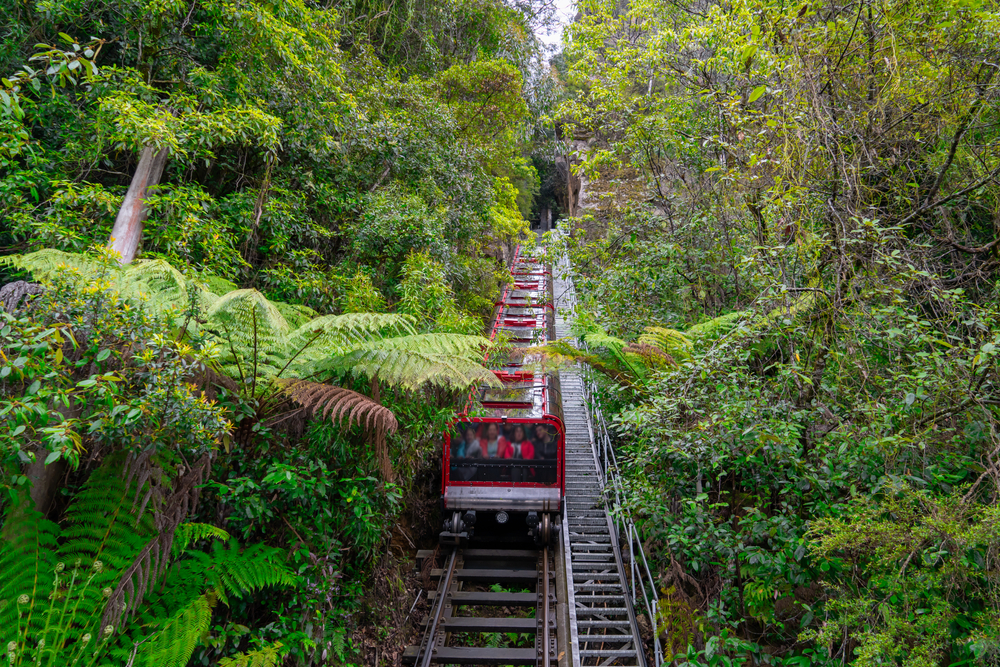 A vibrant and historic world heritage listed village at the heart of the Blue Mountains. Katoomba spoils its guests with spectacular walks and lookouts, rich cultural heritage and great restaurants and bars. Just 90 minutes by car from Sydney, this scenic getaway is famous for its dramatic views of the Three Sisters and Jamison Valley.
The scenic beauty and tranquillity of Katoomba and the surrounding Blue Mountains area have long made Katoomba a haven for Sydney-siders looking for rest and relaxation. Many celebrities and affluent locals have built or restored houses with magnificent views, as well as attracting a resident artistic community, Katoomba and its environs has also been the inspiration for art and music. Katoomba is the home of local community radio station 89.1 Radio Blue Mountains.
The local cinema is called The Edge, located on the Great Western Highway. On the edge of the cliffs at Echo Point, the iconic Three Sisters defy the elements, standing proudly over the awesome scale of ancient wonder below. Enjoy world-class views at Scenic World, where the Scenic Skyway takes a glass-floored journey over the valley and the Scenic Railway descends to ancient Jurassic rainforest. You will find spectacular walks, lookouts and wildlife in the area. There are many ways to explore the sensational views via the scenic railway, Scenic cableway, or scenic walkway, or you may prefer to take the double decker Blue Mountains Explorers bus.
You'll find many boutique and antique shops, day spas and resorts, restaurants and cafes in Katoomba, along with a major shopping centre with Coles and Aldi. Sample handcrafted Blue Mountains treats at the Blue Mountains Chocolate Company. Katoomba is a shopper's delight, with local handicrafts and fashion, fresh produce, collectibles and antiques. With outstanding views of the valley, The Blue Mountains Cultural Centre in Katoomba, is home to an interactive exhibit of local history and the Blue Mountains Art Gallery.
Treat yourself to a luxurious day spa or refreshments at the historic Carrington hotel. Be sure to check out the local events calendar for a year-round line up of markets, music festivals and shows throughout the area, including the Blue Mountains Garden festivals, Music Festival and the Winter Magic Festival. Not far from the village you will find, the World Famous Three Sisters, Scenic World, The Hydro Majestic, horse riding & tea rooms at Megalong Valley, Historic Hartley and The Mysterious Jenolan Caves.
Featured Properties
Refresham

Katoomba

4

Bedrooms

2

Bathrooms

8

Sleeps

Refresham is located in Katoomba and is a fully self contained holiday home ideally located to Katoomba

The Studio

Katoomba

1

Bedrooms

1

Bathrooms

2

Sleeps

Better than a motel, The Studio is ideally located in Katoomba directly opposite Scenic World

Tranquility

Katoomba

4

Bedrooms

2

Bathrooms

10

Sleeps

Tranquility is a lovely home, offering views from almost every room and a stunning parents retreat

Dalgleish

Katoomba

4

Bedrooms

2

Bathrooms

7

Sleeps

Dalgelish is a lovely old mountain character home that sleeps 7 comfortably.

Far Horizons

Katoomba

1

Bedrooms

1

Bathrooms

6

Sleeps

Far Horizon is a two story older style timber cottage that sleeps up to 6 people with a verandah and BBQ