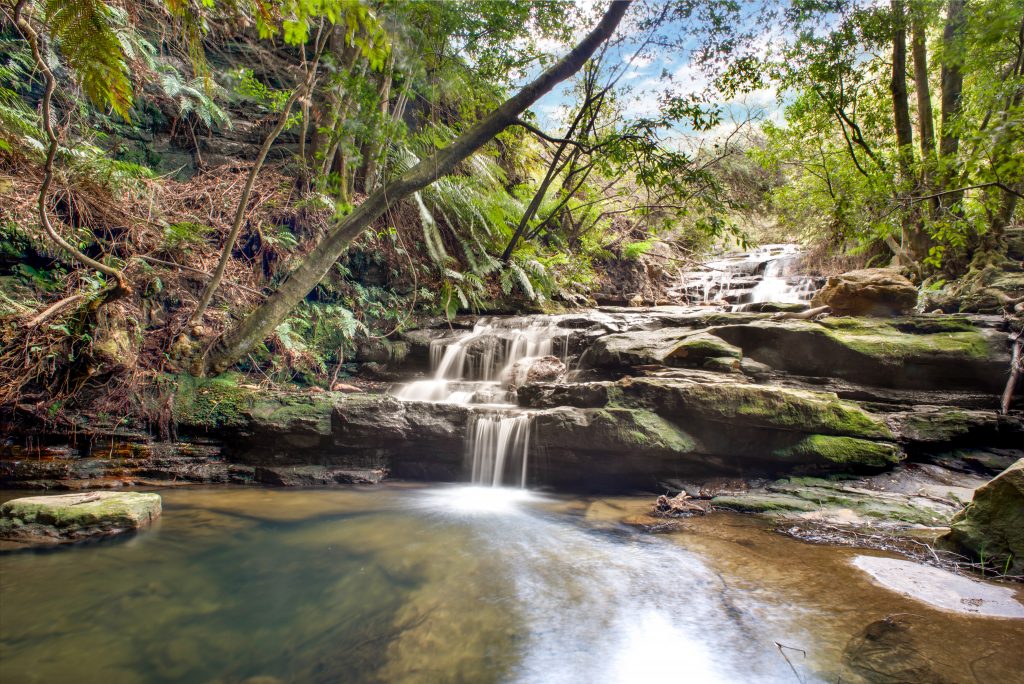 Leura is now as popular for visitors to the Blue Mountains as Katoomba itself. Leura has been given the name of 'The Jewel in the Mountains Crown' and is also known as "The Garden Village". The name Leura itself is Aboriginal for 'lava'. Many volcanic stones have been found in the area.
The area boasts many gardens which are privately owned yet open at selected times of the year to the public. Leura Garden Festival and Leura Village Fair are popular events held in October each year. The natural wonders of Leura can be discovered via the many walks. A great place to start is Sublime Point Road. Here you will find one of the world's most spectacular golf courses as well as the popular Fairmont Resort. At the other end of Sublime Point Road is Sublime Point, at 900m above sea level, you are certain to stand in awe of the view from this point. At the end of Everglades Avenue is Historic Everglades Gardens, which is owned by the National Trust, and is open to the public all year round.
Take a stroll to Leura Cascades, a beautiful picnic area with one of the loveliest short walks in the Blue Mountains. Leura Cascades is a peaceful setting with a children's playground. From the Cascades you can leisurely walk to several waterfalls including Leura, Linda, Lila and Bridal Veil Falls. You can also walk to Copelands Lookout and Flying Fox Lookout. For those who wish to experience total seclusion, the road north of Leura, Mount Hay Road, takes you to the beautiful untouched Mount Hay region. Opposite the Toy and Railway Museum is Olympian Park, featuring a natural amphitheatre with spectacular views. Leura Mall itself is a treasure with many fine coffee shops, restaurants, day spas and resorts, boutiques and galleries.
Visitors to Leura are guaranteed to experience the relaxed nature of the village. Within a close vicinity, are the world famous Three Sisters, Scenic World, The Hydro Majestic, Megalong Valley, Jenolan Caves, & Historic Hartley. Check out the local events calendar for a year- round line up of markets, music and garden festivals and shows throughout the area.
Featured Properties
Lindeman

Leura

4

Bedrooms

2

Bathrooms

8

Sleeps

Lovely two storey home accommodates up to 8 people comfortably just a short walk to Leura Village.

Fairways

Leura

4

Bedrooms

2

Bathrooms

8

Sleeps

Comfortably and backs onto the 10th Fairway @ Leura. Fairways is a Retro 70's house.